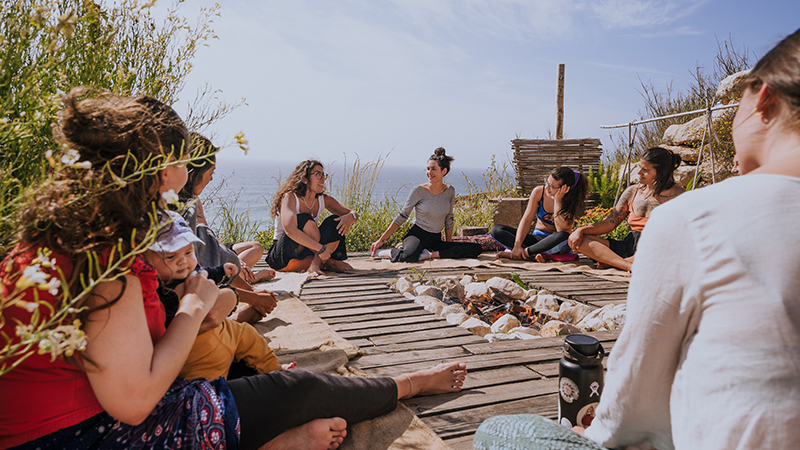 May Monthly Women's Circle
Welcome to this feminine gathering, in a magical space by the sea, on the cliffs of Valmitão beach. Come dive in a moment of reconnection with your feminine creative force, come be inspired by so many other beautiful sisters. A sacred, safe and confidential space for all of us.
Meditation
Rituals
Herbalism
Feminine wisdom
Sharing circle
Inspiration and nourishment by the sea
(and other magical surprises…)
Circle limited to 12 women
Join our online community
Channel with inspiring sharings, online community, news about events:
https://t.me/daluaherbals
Ribamar (Lourinhã)
Full address will be shared upon booking.
(Possibility of rides and public transport from Lisbon and other cities)
Facilitator: Irene Miranda
Eternal student and wisdom keeper of the plant realm and of the mysteries of the feminine, co-founder of Loba Nomad and creatress of Da Lua Herbals. Irene is based in Portugal, where she explores the healing properties of plants and leads a regenerative project on a seaside land – involving natural building, a medicinal and food garden, as well as artistic projects and events.
Passionate about the Wild Woman and about the power of the Circle, she has been guiding Women's Circles and retreats all over Europe, uplifting women to their full potential by sharing folk womb wisdom. She is fascinated by plant medicine, ancient wisdom and craftsmanship.
She is a herbalist, women's health therapist, and regenerative event organiser. Multiple and One.
• Cyclicity, Complicity, Sisterhood •
In May 2022, we gathered for the first time among sisters in Valmitão, to ritualize this space as a cradle of creativity, sisterhood, wisdom exchange and reconnection.
This first circle marked the beginning of a cycle of regular meetings, to walk hand in hand through the mystery of life, in presence, affection, reverence and active listening.
So that we can connect, deepen, bond, I invite you to come monthly to learn more about yourself and our sisters . But the choice and level of commitment is yours alone, so circles will always be announced individually :)
◇ @dalua.irene
◇ info@daluaherbals.com
◇ https://daluaherbals.com/